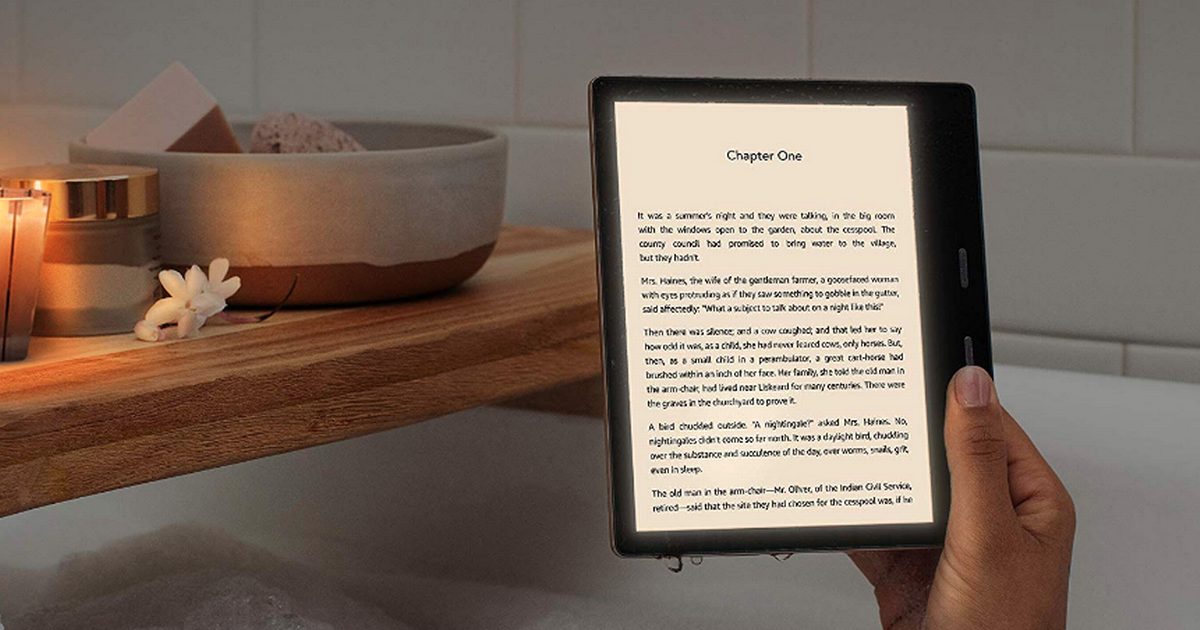 The best ereaders for Aussies in 2021
Take a load off and escape into the world of ebooks with the best ereaders you can get in Australia
There's admittedly something magical about getting lost in a good book, one that you can't put down. But if you have to lug a tome everywhere you go just so you can keep on reading – like during your daily commute or on a holiday – it can soon become tiresome. And that's where ereaders come in.
These tablet-like devices are lightweight and compact, offering screen sizes ranging from six inches to eight inches, and can easily be carried around in a handbag or backpack. The displays mimic real pages, with the text looking exactly like printed material. Some are designed to be used single-handed, while others are more no-frill devices that offer great value. More importantly, they all come with at least 8GB of internal storage, so you can have a library of thousands of ebooks, something you wouldn't be able to do with physical books (unless you live in a manor).
Most ereaders available today are also waterproof, able to survive an accidental dunk of a metre for about 30 minutes. So if you want to read poolside or in a relaxing bath, you can do so with peace of mind. They're all easy to use and allow you to purchase digital books (or borrow from a local public library) directly from the device.
In Australia, there are two major brands that sell ereaders – Amazon and Kobo. The former's Kindle ebook readers are popular, offering great bang for your buck, thanks to audiobook support built in. Kobo, on the other hand, has a more streamlined user interface, supports far more file formats and offers more ereader models.
Even though the choice is only between Kindles and Kobos, deciding which ereader is right for you can be hard. To make the process even easier, we've narrowed down the top five ereaders on the market today that will suit a variety of needs and budgets and which will get you started quick-smart.
---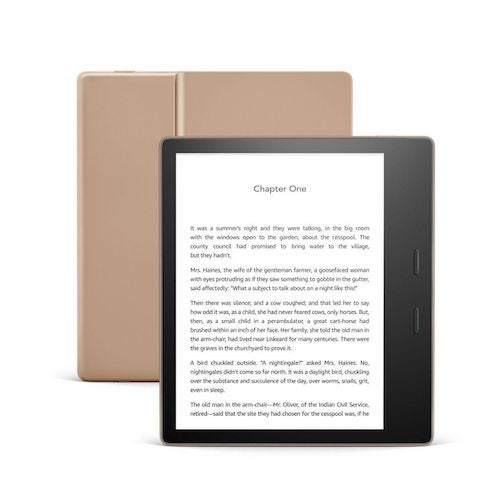 Amazon Kindle Oasis
RRP: AU$399 | Official Amazon product page
The Kindle Oasis is Amazon's top ebook reader, one that promises to give you an immersive reading experience. With its 7-inch display, 300ppi screen resolution and E Ink technology making words sharp and clear, you'll wonder why you didn't make the switch from paperback to digital years ago.
The newest model (launched in 2019) is Amazon's lightest Oasis so far, and also includes IPX8 waterproofing so you can relax in the bath or next to the pool without the worry of damaging this rather expensive ereader. But it costs a pretty penny for a reason – it's the most luxurious ereader you can get, thanks to its all-metal body, and very responsive screen and page-turn buttons. It boasts an asymmetric design (which it pioneered in its older avatars) to make using the device easy when held in one hand. The page-turn buttons are located within easy reach of your thumb and the text on screen can be set to automatically rotate to orient itself correctly when you choose to swap hands. This gives you more freedom to get comfortable and immerse yourself entirely in your book.
If your eyes are on the sensitive side, you can adjust the backlight from white to warmer yellow hues to reduce straining. You can also schedule the backlight to change at a certain time – for example, you can set the device's screen to become warmer at night for a mellow bedtime read.
With the inclusion of WhisperSync support, you can continue reading where you left off on the Kindle app, or another Kindle device (as long as you are connected to the same Wi-Fi network), so you'll never lose your place. And there's Bluetooth support on board to allow you to pair a set of wireless headphones and listen to the audiobook version of your current read, picking up where you left off reading.
Storage on this device isn't bad, either – with the baseline model holding 8GB, escalating to a massive 32GB on the premium version, you'll have more than enough storage to hold a vast digital library without needing to delete anything. While all models can be connected to Wi-Fi, there's also an LTE option that enables you to download ebooks from the Kindle Store no matter where you are. In our opinion, this is a great option that gives you freedom of choice.
Click here to find the best Kindle Oasis prices in Australia
---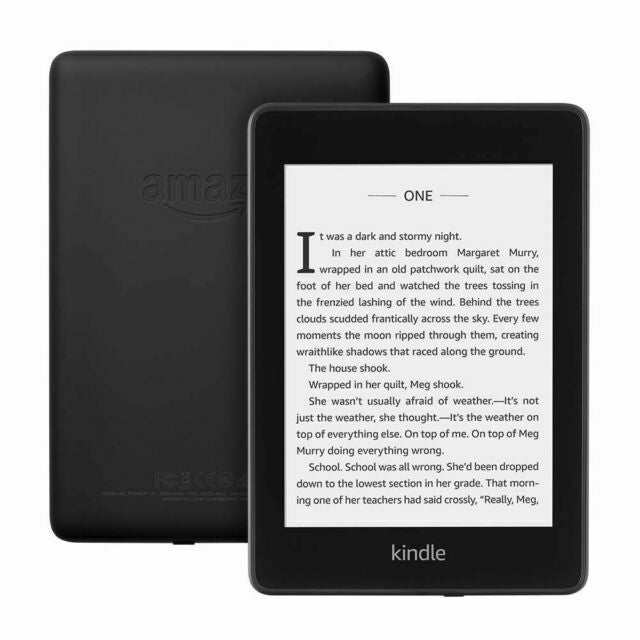 Amazon Kindle Paperwhite
RRP: AU$199 | Official Amazon product page
One of the more affordable options in the Kindle series – the 2019 edition of the Paperwhite is thinner and lighter than the previous models, and offers an impressive 8GB of storage on its base model all the way up to 32GB on the more premium option. With Wi-FI and 4G models also available, this Paperwhite will tick all the boxes for anyone after convenient LTE (to buy and download books any time, anywhere) and high-storage options without have to invest top dollar.
Compared to the Kindle Oasis, the Paperwhite is a more basic option, without the frills of its premium sibling. It's a traditional tablet ereader with a plastic chassis. While it might feel flimsy in the hand, the device will handle a few scrapes and bumps, as well as handle a dunk in water if you decide to read poolside, on the beach or in the bath. Its thick bezels ensure your fingers aren't touching the screen at all times, preventing accidental page turns, but this design isn't as conducive to single-handed use as the Oasis' asymmetric body.
Another cost-saving tactic Amazon has utilised in the Paperwhite is its screen. While still retaining the great 300ppi resolution for sharpness and clarity of text on the display, the screen real estate is a little less than its premium sibling at just 6 inches. But that makes the Paperwhite all the more lighter and more portable. Like the Oasis, there's adjustable lighting that can be tuned from warm to colder hues, depending on your needs. However, the ability to schedule the light to change according to the time of day is not available on the Paperwhite – you'll need to do it manually.
Amazon has also added Bluetooth support here, so you can pair a set of wireless headphones to listen to audiobooks when you're unable to sit down with the device itself, with WhisperSync support available on board as well. As with all ereaders, you'll get days of reading on a single charge, if not weeks, depending on how avid a reader you are of course. All in all, it's a feature-packed ereader that offers great bang for buck.
Click here to find the best Kindle Paperwhite prices in Australia
---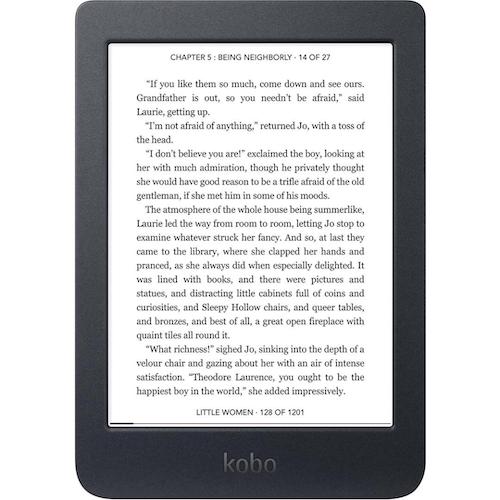 Kobo Nia
RRP: AU$149.95 | Official Kobo product page
If you're looking for an affordable ereader outside of Amazon's ecosystem, then the Kobo Nia is for you. It's a no-frills ereader that replaces the now-discontinued Kobo Aura, the company's previous entry-level device, inheriting a lot of the Aura's features. And that includes the 6-inch display with a screen resolution of 212ppi (1024x758). While not as high as the 300ppi in other, more expensive, ebook readers, it is sharper than the 167ppi screen of the basic Amazon Kindle model.
However, where the Aura had just 4GB of internal memory, the Nia doubles up on that, offering 8GB of storage – that's on par with all the other current Kobo models. What the Nia misses out on is the Aura's microSD card slot that allowed you to boost the device's storage. That said, microSD cards slots are no longer available on any ereader from any brand and 8GB is plenty for hundreds of ebooks, if not thousands.
While it may not have Bluetooth support (as none of Kobo's ereaders do), the Nia comes with baked-in OverDrive support. This allows Australian users to borrow ebooks from their local library seamlessly. It also supports far more file formats than any of the Kindles, and we're fans of the Kobo user interface – it's a lot more user-friendly and streamlined, taking full advantage of the Nia's responsive screen.
Like the Paperwhite, the Nia's chassis is a plastic one, but it has a textured rear that offers a decent amount of grip. Again, it's not designed for single-hand use but has thick bezels to keep your fingers away from the screen to avoid accidental page turns. Unlike the Paperwhite, though, the Nia is not waterproof, so you may want to keep it away from the kitchen sink, the bath or the pool. However, coming in AU$50 less than the Paperwhite, while offering a similar feature set, the Kobo Nia is great value for money.
Click here to find the best Kobo Nia prices in Australia
---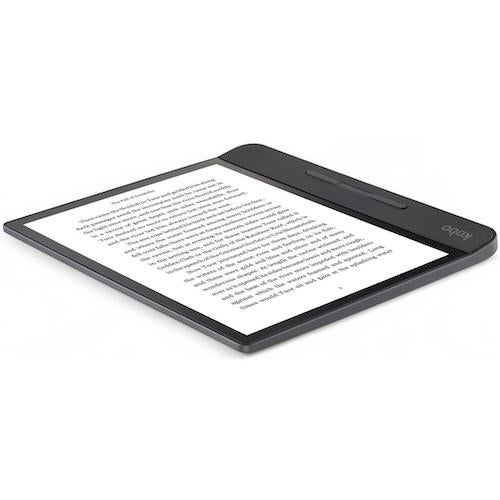 Kobo Forma
RRP: AU$429.95 | Official Kobo product page
The Kobo Forma is a close match to Kindle's Oasis, although it is a lot more expensive than its Kindle counterpart. It was the first Kobo ereader to adopt the Oasis' asymmetric design for prolonged one-hand use, but one-ups on the Kindle by offering an additional inch of screen real estate. The Forma boasts a spacious 8-inch display a screen resolution of 300ppi, so every word is sharp as tack.
As the Forma automatically rotates in both portrait and landscape, you can hold it comfortably in either your left or right hand, or use a sleep case that folds into a stand and read in horizontal orientation – whatever suits your fancy. Kobo has also installed the newer and quicker E Ink tech in the Forma that requires you to perform a full screen refresh less often and makes the touch more responsive when turning pages or using the onscreen keyboard.
Like with Kindle's Oasis, you can adjust the Forma's backlight, however, it differs in that is also offers colour-temperature adjustment (which can also be scheduled) – so instead of only having the option to change between the standard white and warm hues, you can opt for a orangey-yellow tone.
The downside – the Forma only comes in a single 8GB version as opposed to the Oasis' 32GB max storage option. In saying that, the reading experience is the most important aspect of an ereader, so if the Forma's storage is sufficient for your digital library, you'll likely find it to be a great alternative. However, compared to the Oasis' good-looking metal body, the Forma falls short with its plasticky look, with the material beginning to look scruffy quite quickly. It is waterproof though.
A great advantage of using a Kobo ereader, though, is OverDrive support, which allows you to borrow books from your local library – a function that most Australian libraries endorse. So if you can stomach the initial cost of the Forma, you can potentially save a lot of money on buying ebooks, getting them from the library instead.
Click here to find the best Kobo Forma prices in Australia
---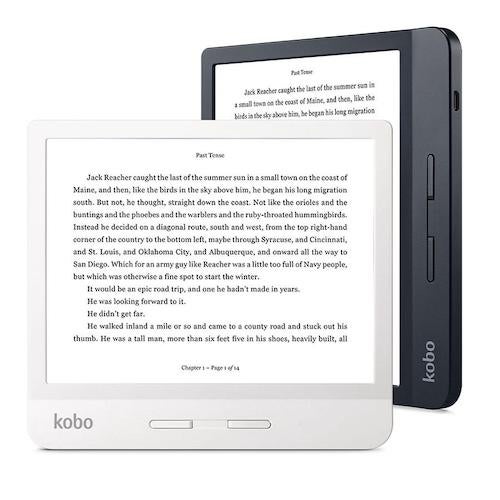 Kobo Libra H20
RRP: AU$269.95 | Official Kobo product page
Kobo's more budget-friendly option is the Libra H20 – introduced as a more affordable alternative to Amazon's Oasis and its own bigger sibling, the Forma. Despite knocking off a couple of hundred dollars off the price, the Libra H2O doesn't compromise on features at all, offering everything the Forma does, with the sole exception of the screen. Instead of 8 inches (as in the Forma), the Libra H2O has a 7-inch display, equalling that of the Oasis and an inch more than the Kindle Paperwhite (all of them share the same resolution of 300ppi).
Despite sharing similar screens, the text on the Libra H2O appears sharper than on the Oasis due to a small design tweak. Where the Oasis' screen is flush with bezels, the Libra H2O's display is fitted into a recess in the chassis. This slight depth changes the angle of view, making words appear sharper, and also giving Kobo the ability to add infrared technology used for touch and gesture control. This makes the screen supremely responsive – whether you're typing out a quick Wi-Fi password or adding annotations to a book, it's quick and easy.
Like the Forma, you can orient the Libra H2O any way you want – vertically or horizontally – and set the text to rotate accordingly. If you find that the slightest hand movement is changing orientations, you can always lock it to just vertical or just horizontal, and the only changes will be when you entirely swap hands. And, as with all Kobos, the screen has adjustable lighting, which can be scheduled to match daylight hours, filtering out sleep-disrupting blue light during evening and nighttime.
Admittedly it's got a plastic body, but the material used is better than what Kobo used on the Forma. Then there's ubiquitous OverDrive support, plus Pocket and Dropbox integration is also available. So all in all, the combination of features and price makes the Libra H2O one of the best ereaders available in Australia.