BEST DEALS FROM CLICK FRENZY 2021 THE MAIN EVENT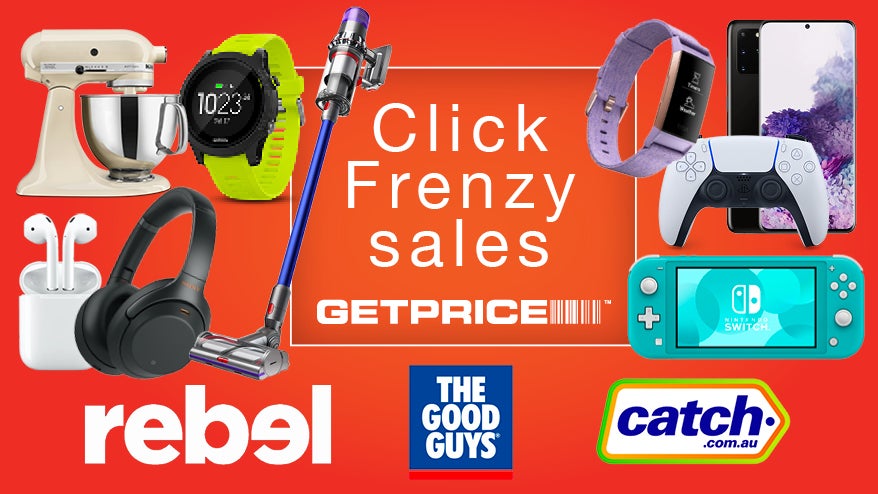 Something has got to be said about retail therapy, and it helps even more when that therapy involves a whole lot of savings. So jump right into the latest edition of Click Frenzy that's on right now. It's one source of deep discounts before Black Friday comes knocking, although it's a lot more limited in terms of participating retailers and deals.
So if you've been eyeing a pair of trainers or a new mattress, then head to Click Frenzy's website for they are selling like hot cakes. Or just simply treat yourself to something new, 'cause there's plenty of splurge-worthy deals from several big brands.
To make it easier for you, we've listed some of the top retailers either directly participating in the Click Frenzy sale or hosting their own frenzy below, following which is a selection of some of the best offers from this sale. But hurry, for the sale ends tonight. Take advantage of all the discounts Click Frenzy has to offer. Take a gander, and happy shopping!
Click Frenzy The Main Event: retailer quicklinks
There are several retailers and brands participating in this instalment of Click Frenzy, so many in fact, that we had a hard time picking and choosing which ones have the best deals. So forgive our thoroughness, but these our top picks:
There are several more retailers participating, so if you'd like to check out the full list, head to the Click Frenzy website where you can sort by brands.
Best Click Frenzy Main Event deals
There are several categories of deals available during Click Frenzy and we've handpicked a few below.
Tech deals:
It's one of the bestselling categories during any sale and you will need to be quick to snag one of the offers below.
We'll do our best to keep the above list updated, adding new offers as they become available.
Clothing and fashion deals:
Another top category during any major sale is fashion. Whether you're after a pair of running shoes or want to keep the sun out of your eyes, we've picked a few top options.
If you can't find a specific offer in our list, you can check out the list of retailers we've listed above to find something else that tickles your fancy. From Vans to The Iconic, there'll be something for everyone in this sale.
Other deals:
Some items just don't fit into a category but they're too good to not be listed here. We've even found a little something for furry friends.
---
What is Click Frenzy?
Since 2012, Click Frenzy has gained quite a reputation for offering record-breaking sales from all major brands and retailers in Australia. It's similar to the yearly Black Friday and Cyber Monday sale, although unlike its counterparts, this event runs a few times a year with theme-specific sales and is exclusively online.
What used to be a 24-hour sprint soon expanded to a 53-hour marathon, giving shoppers the much needed opportunity to secure some sweet deals. Purchases must be made directly with the retailer as Click Frenzy only facilitates access to brands, categories and deals. Many retailers may not actively participate in this frenzy but can offer discounts on their individual websites just to keep up with the competition.
When is Click Frenzy 2021?
As mentioned earlier, Click Frenzy's Main Event will kick off on November 9 at 7pm AEDT and will end only at 11:59pm AEDT on November 11.
There's an off chance that some retailers will jump the gun and put up discounts ahead of time, so keep an eye out for that. If you want the best bargains from the comforts of your home, we suggest you keep tabs on your favourite retailers' websites, or check back with us when the sale kicks off, so you don't miss out.
Where can I find good Click Frenzy deals?
You can access every single deal on Click Frenzy's website. Every deal will redirect you to the participating retailers online store. You can stay clear of the commotion on the site by subscribing to the Click Frenzy newsletter which will provide you with all the details necessary.
On the Click Frenzy site, all deals are usually arranged in categories, so it's quite easy to navigate. However, the sheer volume of offers means it can get a touch overwhelming. And that's where we come in. Getprice's deals team will be monitoring the entire sale and we'll list handpicked retailers and deals right here so you can quickly and easily access them. So keep your credit card handy and allow us to help you find a great bargain.